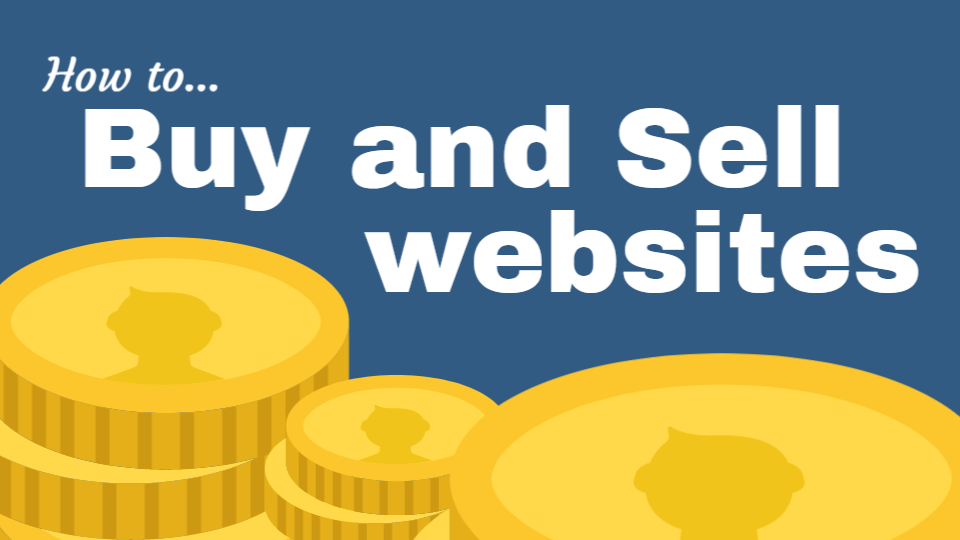 There are many investors who have become wealthy from buying, selling, and maintaining websites. In this guide, you'll learn the basics of evaluating a website's technical metrics to determine whether it's a good investment.
So how do you get started? The key is to start small by investing in simple static websites in the $1,000–$10,000 range, holding and improving them, and then using earnings to buy new websites or improve on existing ones. Over time, you will notice your website revenues increasing as your skills improve.
The key to success is to focus on reinvestment. Use your website earning to either improve on exiting websites or to build or buy new ones.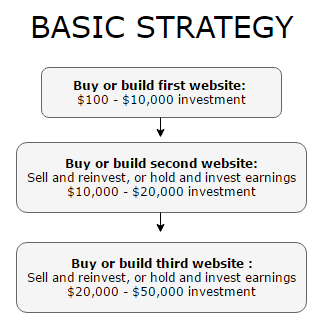 How do you choose which websites to buy?
A few months ago I stumbled across a mass-media blog for sale that covered the biggest/best/most expensive versions of everything.
As much as I like to avoid this type of mental garbage, these types of websites cater well to the masses of internet users who are attracted to mindless entertainment and cheap thrills (such as myself). In their defense — these types of websites can be very profitable investments.
At first impression, the website looked like a great deal. Huge returns, very little time commitment — I was seriously interested. So, as with every website that I'm interested in buying, I sat down and ran the numbers, and realized that things just didn't add up.
Here is a walkthrough of the process I used to evaluate the investment value of this website:
Basic Website Analysis
REPORT CARD FOR RICHESTLIFESTYLES.com | Sold on 12/29/2016 via Flippa.
Fundamentals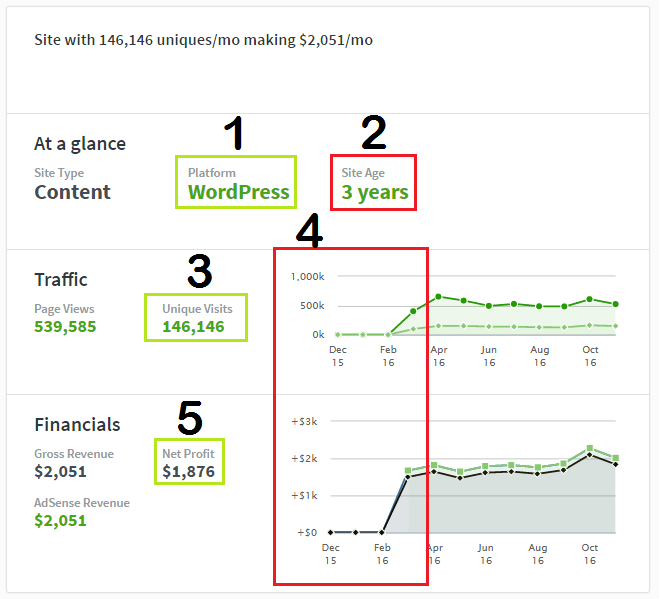 The website is running on WordPress – this is good because I am comfortable with using WordPress.
The website age is only 3 years old – too young for my taste. When it comes to purchasing websites, you should look for old age (5+) and consistent earnings.
Monthly unique visits of 146,146: this website gets a lot of traffic. Unique visits focuses on the total number of users, regardless of how many times they visit the site.
Website traffic isn't consistent: the fact that there was 0 traffic reported in December, January or February of last year is suspicious.
Net profit appears to be increasing and is relatively high compared to gross revenue. However, the limited data (9 months worth) is insufficient to draw conclusions that amount to anything more than hopeful speculation.
Traffic Overview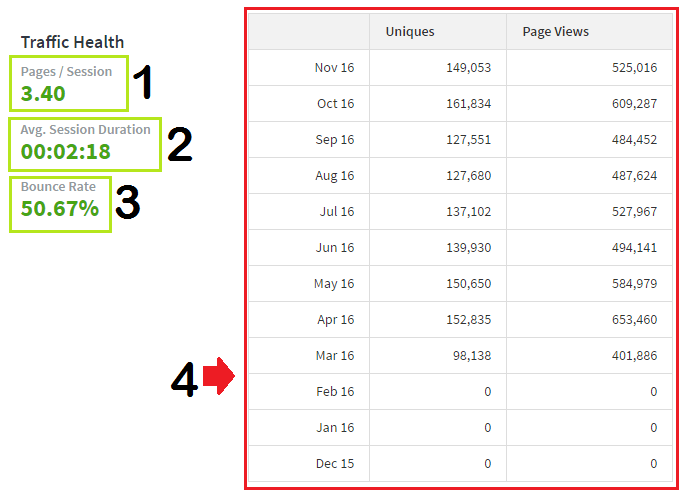 Pages viewed per session of 3.40 is high – the industry average is between 2–3 pages per session.
Average session duration of 2.18 is standard. This metric measures the average time a user spends on your site, and is useful in gauging levels of user engagement.
Bounce rate of 50% is standard. This statistic represents the percentage of people who abandoned the site without viewing more than one page. Aim for lower, but anything below 60% is acceptable.
Lack of a consistent growth trend and 0 traffic in Dec, Jan, Feb still concerning. Look for websites that show steady, consistent growth (remember to account for seasonal variations and to acquire as many years of traffic data as possible to draw the most accurate conclusions).
Traffic Sources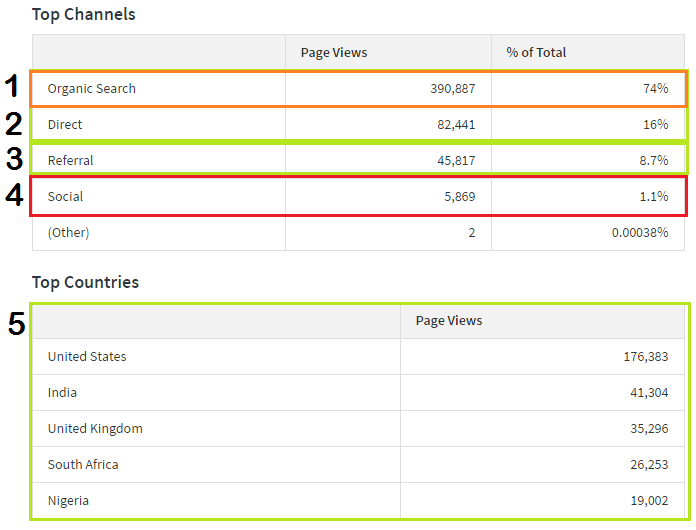 Organic search is too high – which is generally a good thing. However, anything over 70% is risky. Traffic sources should be more diversified. Think about it: a change in Google's search algorithms (especially one that negatively affects the rankings of sites that value quantity over quality, such as this one) could be devastating. This is especially concerning considering the low amount (1.1%) of traffic coming from social sources.
Direct search traffic of 16% is average – this is a metric that you want to be as high. This type of traffic comes from internet users who find your site's content valuable to the extent that their willing to directly visit your site.
Referral traffic of 8.7% is lower than average. This is also a metric that you want to be high. Referral traffic comes from sources that are linking directly to your site. Sites with unique, high quality content will have a high % of referral traffic.
Social traffic is too low. This website may be lacking social media accounts. If this website does have social media accounts, it's a good indicator that subscriptions are likely coming from 'bots' or fake accounts.
Top two traffic sources are the U.S. and India — this is typical. Seeing as this is likely a U.S.-based website, you should expect the majority of traffic to come from countries where English is spoken.
Other Information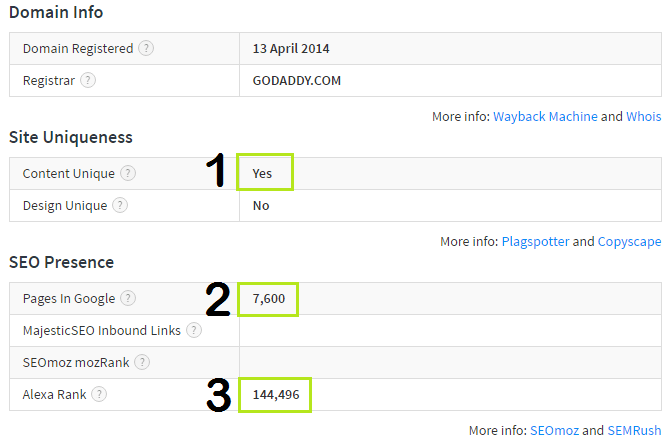 The seller of this website claims that the content is unique. This is usually a good indicator.
The reported 7,600 unique pages indexed by Google for a 3 year old site is unlikely – this hefty number explains the high organic search traffic, but again casts doubt on the seller's claim that the website's content is unique.
The Alexa rank is meant to measure the traffic of this website relative to other websites.
While not a very useful indicator, a website's Alexa rank is meant to put a website's overall influence into relative perspective.
Seller's Notes

Seller's notes are brief, poorly written, and inconclusive. Also, the seller's claim that the reason for selling the site is to invest in stocks doesn't add up. The net profit generated from the website in just 2 months ($3,200) is greater than what the seller could make from the stock market in an entire year, assuming a standard 7% annual return (http://www.thesimpledollar.com/where-does-7-come-from-when-it-comes-to-long-term-stock-returns/) (7% of the website's final sale price of $40,000, which equals $2,800).
Seller's claim that "I do not have time to update the site". This is unlikely considering that most of the website's income is derived from AdSense — which requires very little effort on the part of the website administrator. Additionally, since the website already boasts over 7,600 unique pages, most of the hard work has already been done.
Conclusion
The fact that I was initially intrigued by this website was the reason why I conducted further analysis. On first impression, this website looks like a good deal — solid returns, high percentage of organic search traffic, huge potential for further monetization.
However, after digging a little deeper, I started to see some red flags. The first and most concerning issue was the lack of traffic data for the months of December, January, and February. For this website to have gone from 0 traffic to 7,600 'unique' pages indexed by Google in under a year is unlikely.
But digging further revealed even more red flags. The website's lack of diversification in traffic sources, namely it's huge dependence on organic search traffic, was concerning. As I mentioned previously, a likely change in Google's algorithms that increasingly favor quality over quantity, could devastate the website.
Lastly, the seller's lack of a good reason for selling the website was concerning. It simply doesn't add up that the seller would want to rid himself of this extremely profitable asset (which generates over $1,500/month in net income) in favor of more volatile and less lucrative assets, namely "stocks".
For all of these reasons – I would not pay more than $15,000 for this website. And, seeing as this website sold for over $38,000, it appears that whoever purchased this property may have favored intuition over analysis.
In the future, when you're deciding on whether or not to invest in a website, make sure to run an analysis like the one shown above. This type of analysis will save you from impulsively investing in websites that appear good on the surface, but may have a multitude of problems underneath.
Remember – if you have any doubts or bad feelings about a website that you're considering purchasing, play it safe and don't make an offer.